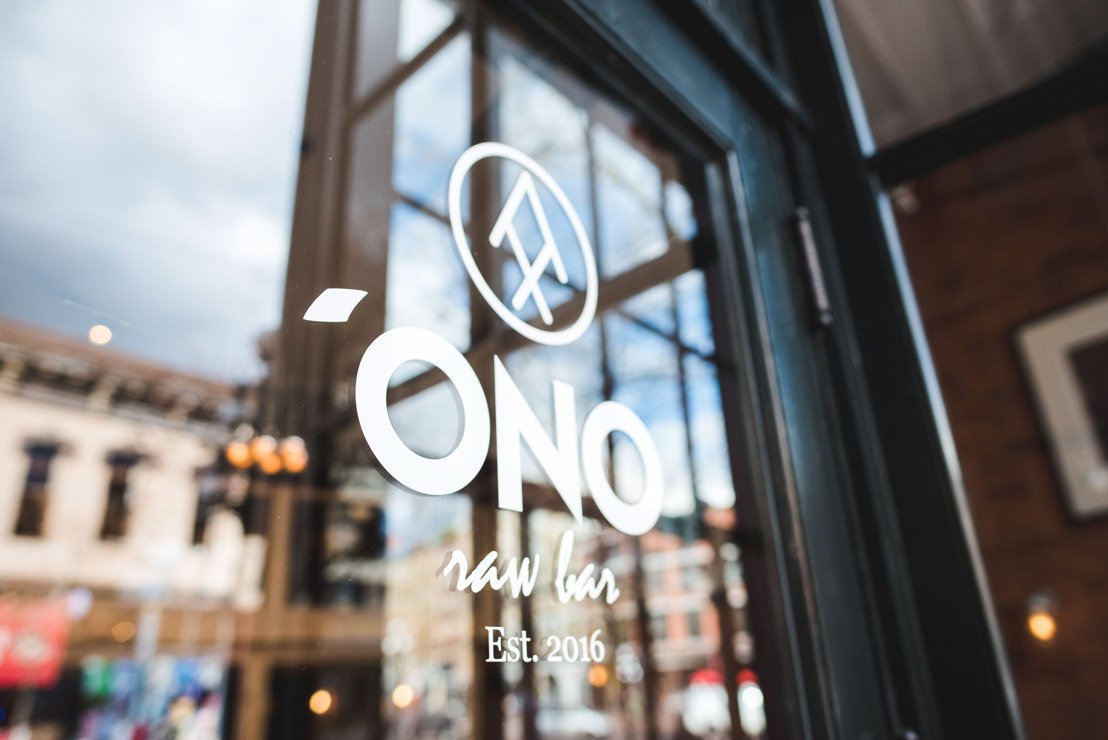 'ONO Raw Bar Celebrates Official Opening
Francis Regio and Kalu Interiors transform Cork & Fin
Thursday, March 24, 2016 — Vancouver, B.C. - 'ONO Raw Bar, Gastown's newest restaurant is set to host its official opening tonight. For the past few weeks, the iconic 221 Carrall Street address has been shrouded beneath brown window wrapping. Renown restauranteur Francis Regio and the design team at Kalu Interiors have been busy re-branding and renovating the space. With heavy construction now complete, 'ONO Raw Bar emerges featuring a combination of Japanese inspired cuisine and West Coast fare.
'ONO (with the okina) is the Hawaiian word for 'delicious'. The menu boasts an extensive selection of fresh fish flown in daily from the Sea of Japan and the Pacific Ocean. Patrons will discover many combinations of fresh ingredients and delicacies at the unique raw bar and from the gas-fired kitchen. Pair it all with Japanese whiskey, sake, wine, or the craft beer also found on the menu. With Chef Takuya Motohashi at the helm, patrons sitting at the Omakase Sushi Bar are in full view of the master at work. Whether enjoying Chef's tasting or seated at a cozy table in the historic brick-laden room, 'ONO transports Vancouverites just a little bit closer to Hawaii.
Regio's vision of casual elegance was integral to the 'ONO brand. Enter Kalu Interiors. Their design challenge was to transform a traditional well-loved space to a simple, uncomplicated ambiance that would be reflective of the flavourful fare, light wines and sakes that would become the signature clean palette menu items at 'ONO. Original rounded wooden railings, wall paneling and dark espresso woods gave way to glass railings, crisp white subway tiles at the bar and light, natural wood floors throughout. The warmth of the wood and slight shimmer on the banquet remind us of our proximity to the ocean. The combination of light colours and rich textures result in an environment that is not curated. It hints at Scandinavian clean lines. There is a richness in simplicity that allows patrons to relax and indulge in their culinary experience.
Aleem Kassam, one half of the partnership that is Kalu Interiors states "Our aim was to create a space that spoke to an effortless symbiosis between the plate, the palette and the environment."
Authentic, genuine, and accommodating are but a few words that help define the 'ONO experience. But don't take their word for it. Doors are now open at 'ONO Raw Bar.
About 'ONO Raw Bar
With its iconic location in the heart of Gastown, 'ONO raw bar is downtown Vancouver's destination restaurant for authentic Omakase style sushi and innovative seafood cuisine. Delectable dishes with a modern Japanese influence will have locals and tourists coming back for more.
For more information about 'ONO Raw Bar, please visit onoraw.com.
Or follow 'ONO on:
Instagram
Twitter
About Kalu Interiors
Aleem Kassam and Phyllis Lui blended their close partnership, unique styles and sensibilities for design into their firm name Kalu (KA-LU). They understand the importance of personal style and spaces for both clients and their homes. Inspiring, beautiful, aspirational, unique, individual – all qualities they feel an environment should reflect.
They pride themselves on working with superior trades people, offering cutting edge high-end finishes and always staying ahead of the curve when it comes to innovative design. And all whilst staying on budget!
Kalu Interiors is Vancouver's fastest growing full service interior design firm.
For more information about Kalu Interiors, please visit kaluinteriors.com.
Or follow Kalu Interiors on:
Instagram
Twitter
Facebook
houzz
###
Construction & Design photo credit: Julie Row Photography
'ONO Raw Bar Opening Night Event photo credit: Kalu Interiors